Crystal Love
Oneness & Unity through the Crystal Realms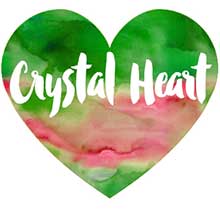 Crystal Healing is a vibrational tool gifted to us from the Mineral Kingdom on this amazing planet, Mother Earth. Each crystal is unique and divine and radiates its own powerful vibration and light. We are so blessed to have access to these glorious stones that aid us in our journey to balance our emotional, physical and spiritual bodies.
Each crystal vibrates to its own wave of energy, crystals can ground us to this planet, assist our spirits to soar, raise and clear blocks and suppressed emotions. The power within them is unfathomable, when we place the crystals on our body the Journey begins. In Crystal Healing we place a collection of specially selected crystals upon the clients clothed body, the crystals then fuse their natural energy and vibration with our bodies energy field. As they work in perfect synergy the healer focuses divine healing energy to help clear blocks, emotions and repressed feelings from each Chakra or dense area in the body.
Crystal training also includes a deep understanding of Intuition, connection to Mother Earth, Crystal Grids, Sprays, Elixir's and understanding Intuitive Crystal Medicine selections all are deeply respected in our teaching of these powerful vibrational tools.
Crystals can shift deep emotional wounds assisting you to unblock your path to clear and regenerate your body and energy system in maintaining health and well being. Learning Crystal Healing is a beautiful non evasive modality that can enrich your life with self-healing, and is a gift to those who wish to heal others. Crystal Healing blends beautifully with many other modalities including Reiki, Kinesiology, Theta, Shamanic, Meditation and Energy Healing. We highly recommend you open yourself to the power of the Crystal/Mineral Kingdom. Kendall uses Crystal healing in her Shamanic Healings, Crystal Grids, Moon Medicine Crystal Spray Collection and Elixir's.
Kendall teaches her personal Trinity Crystal Healing Program in all Crystal Healing Workshops. The Trinity Crystal Healing program was designed after years of crystal work with clients. Crystals are amazing tools for us to work with towards greater healing.
This program was created to give you the structure to work confidently with Crystal Healing. Both you and your clients benefit in using the 3 Levels of Crystal Healing. The Holy Trinity is the culmination of "All that is" it is a powerful form of Healing on every level, Both in Body, Mind and Spirit. Each Level works with the power of 3, with 3 power crystal packs per Level. In the Crystal Divination Workshop we will be covering:
Level 1 – PREPARE
Level 2 – ALIGN.
Level 3 – CELEBRATE is embraced in the one day Advanced Crystal Healing Workshop.
"self healing creates self mastery"